91
Once again the Indira Gandhi National Open University (IGNOU) has extended the deadline for Assignment submission and Re-admission form. This time the deadline was 31st July. IGNOU has been further extending its deadline since June due to the coronavirus pandemic and the varsity is not completely accepting the assignments or application forms in offline mode, however, learners can scan and send their assignments online.
IGNOU has declared the Date sheet for the June 2020 Term End Exam (TEE) which is starting from 17th September 2021*. So now we have to start preparing assignments for the next session. It has extended the date for Re-Registration and New Admission for the next session for all the programs upto 15th September 2020, without late fees.
Students are advised to download the assignments based on their programs and submit the same before the last date in order to be eligible for the exam or else their result will not be declared. Students are required to secure passing marks in IGNOU assignment as well as the TEE to be considered qualified for degree from Indira Gandhi National Open University.
All the students must complete their assignments and submit it on time and in order to do so, candidates are advised to go through the dates given below:
Dates for ignou assignment submission 
| | |
| --- | --- |
| Events | Dates |
| Last date of IGNOU Assignment submission for June TEE | July 31, 2021 |
| Last date of IGNOU Assignment submission for Dec TEE | September 30, 2021* |
| June 2020 Term End Examination (TEE) | September 17, 2021* |
| Dec 2020 Term End Examination (TEE) | December 1, 2021 |
| IGNOU Result | To be notified |
*Dates are to be changed due to the current Novel Corona virus pandemic
Due to the ongoing coronavirus pandemic IGNOU has been extending the assignment submission date. Currently it was extended by the deadline of July 31st, but the due date is subjected to change only after the official announcement from IGNOU otherwise it remains unchanged.
The last date may differ for each program so the students are advised to confirm the same from their respective IGNOU Regional Centres. Those who have not yet submitted their assignments or application forms can do so at ignou.ac.in.
IGNOU Students have to write their assignments and submit to the study centre before due date. Due to the pandemic IGNOU regional centres offered email ids to submit soft copy of their assignments but with a condition that afterwards the students have to handover the original hardcopy of the assignments when told to by the study centres.
If any student failed to submit the assignment then generally he/she is allowed to attend the Term End Exam, but due to the pandemic IGNOU has decided that those students who do not submit their assignments (hard copy or soft copy) will not receive their marks, when the result is declared.
The Assignments have 25% weightage in each subject of their respective IGNOU program. It contains 100 marks where in different IGNOU Programs, some subjects contain 80 marks are for assignments and rest 20 marks are for viva. You have to complete the minimum words criteria to get higher marks in the result which will increase your performance report in your grade card and also improve your writing skills a lot.
If you fail to submit your assignment on time then your Grade Card will display 'Incomplete' for the subject, you were unavailable to submit for their respective Year/Semester. Once you submit your assignment, generally it will take around 45 days for the assignments marks to be uploaded and display on your Grade Card as 'Complete' when both your assignment marks and Term End Exam marks are updated.
To download your ignou assignments follow the below given steps
Go to the official website – ignou.ac.in.
Click on the Student Support tab.
Click on the Assignments on the left hand side of the screen.
A list of programme-wise assignments will appear on the screen. You can scroll and find you program accordingly. There is Master Degree Program, Bachelor Degree Program, Diploma Program, Certificate Program and Foundation Program.
Select the programme of your choice and click on it.
IGNOU assignment '.pdf' file will appear on the screen.
Click 'Save As' and the file will be downloaded.
Or else click this link: webservices.ignou.ac.in to download directly.
After downloading the assignment question paper, you have to solve it yourself. You have to solve it with the help of reference books or any other materials but do not copy whole answers to assignments but read the answer in material, think and rewrite the answer in your response sheet with your own. Before starting to write your assignments you have to read Instructions for the IGNOU Assignments carefully to make your assignments perfect and considerable.
For solving the IGNOU assignments you can use the study materials for reference but cannot copy from it completely. If you have not received physical copies of your study material, then you can download soft copies from eGyanKosh website. You can solve your assignment by searching online through Google or any IGNOU Assignment Solutions site available. Even IGNOU reference guide books are also available like DotCom Publications, GullyBaba Publications, Neeraj Books, etc.
In assignments, you must get atleast 40% marks for passing, and thereafter you can fill up the Exam Form to appear in TEE Examination. For e.g. if the total marks of the assignment are 100 then students have to get at least 40 marks to pass out. Just download your assignment from the website and start writing each and every course assignments by your hand.
No print or typing allowed in assignments. Candidates are requested to submit their assignments as soon as possible to appear in the upcoming term end exam.
Many students are confused that which assignment is to be submitted for June 2020 TEE, so here is the solution to it. All of the students have to submit only the 2019-20 session assignment to appear in June 2020 TEE. If your program has the availability of July 2021 or January 2021 session assignments then you have to submit fresh assignments to IGNOU study centre rather than old ones.
If any student has submitted 1st year or 1st-semester assignment of the Jan-July 2019 session then they can submit 2nd year or 2nd-semester assignment of session Jan-July 2020 to their respective study centres. If your assignment paper has not been uploaded on the website, please wait for few days and keep checking the IGNOU website regularly.
For writing the assignment you have to follow a format. Like the first page should include your details like your enrolment number, course code, study centre code, assignment code, etc. Below is a specimen on what the front page should look like:
Next page you have to attach a photocopy of your IGNOU ID card . Then on the third page, you have to attach the question paper of the assignment. Then from fourth page you can start writing your answers. Many students have confusion on what to write in place of assignment code; well you will find the code in your respective assignment question paper. For example, in FEG-02 the Assignment Number is 'BCA(1)/02/Assignment/2020-2021'.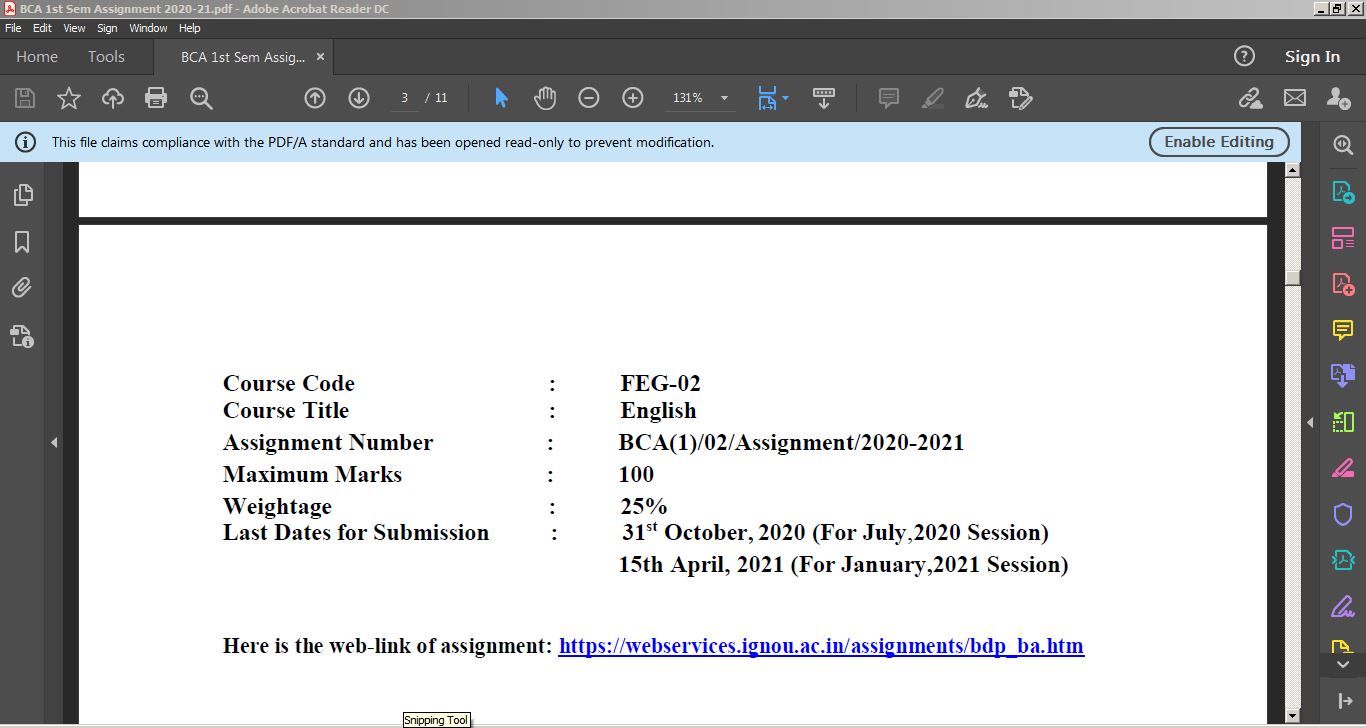 Now regarding the submission of IGNOU Assignments, at present due to the Corona Pandemic, you have two options one is online and the other is offline. Uptill now students would write the assignments and submit before the deadline to the study centre. After submission the study centre provides you a receipt, as proof of how many and which assignments you have submitted.
Now due to the current scenario IGNOU has asked its students to submit their assignments online by scanning it and saving it as PDF as per the instructions given to them via email or SMS. You have to save the sent mail as proof, if they do not revert back by stipulated time period or if your marks are not uploaded. You can mail them again and keep your original copies also ready to show them as and when requested.
If you have registered your active mobile number with IGNOU, you will receive notifications from them regularly. So the students are advised to submit their scanned copies online according to the instruction provided by the regional centre, which is either by email or else by uploading the PDF on the link given by them and filling up the details and submitting it before the due date.
Note – Candidates are also requested to keep their physical assignments safely because you may have to submit the physical copy of your written assignment to the study centre later, whenever you are requested to.
Once you submit your assignment, generally it will take around 45 to 60 days for the assignments marks to be displayed into your Grade Card. Still if you want to at least check your assignment status click this link IGNOU Assignment Status. On clicking the link you will be taken redirected to a page where you can see the submission status of your assignment.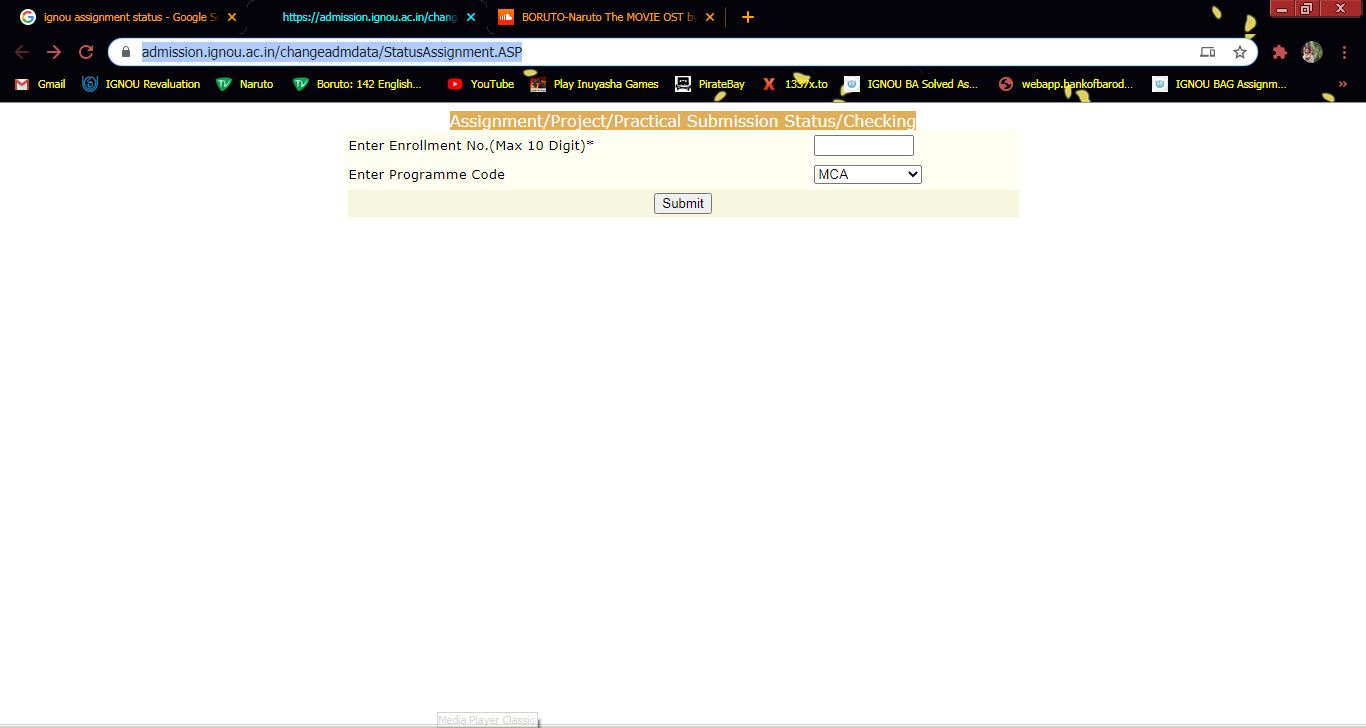 Insert your 'Enrolment number' and Programme code and submit it. You will be able to see the submission date of your assignments when they are checked and approved. If not then it will display 'Submission Status Not Found. Kindly check with your concerned study centre, if submitted'. So not to worry if your assignment is not displayed successful, it will take almost 45 to 60 days for IGNOU to upload results.
If your study centre has instructed you to submit your assignments offline, then after completing the assignments, students are required to submit to the concerned coordinator on the prescribed date. The last date for submission will be mentioned in the question booklet too. After submission, students should get their slips signed by the Coordinator.
On the slip, the name of the IGNOU courses for which the assignment has been submitted, enrolment number, and date of submission must be written. Students should retain this slip for future references. Also, they should get the photocopies of their assignments as well attested by the study centre.
IGNOU Assignment – Points to Remember: 
Students must submit the IGNOU assignments before the schedule date of Term End Examination.
They must keep a copy of the assignment for future reference along with the slips signed by the Coordinator.
The assignment status can only be checked by visiting the official website that is – https://admission.ignou.ac.in/changeadmdata/StatusAssignment.ASP.
Students who have submitted their assignments before the deadline will be able to check assignment status.
Now after finally submitting the assignment and the exam form you have to wait for Hall Ticket from the IGNOU. Hall Ticket is a type of confirmation that all your assignments are submitted, and exam form too is submitted before deadline. The university has declared the Hall Tickets of all courses for upcoming Term End Examination June 2020 recently, which is beginning from 17th September for final year students only.
Final Year students can download their respective Hall tickets from the official website of IGNOU whereas First year and Second year students have to give exams in December month for which date will be declared later on.
To download your Hall Ticket, follow steps as below:
First, Click on given Hall Ticket Link (TEE or Entrance Exam)
Enter your 9 (Nine) digit Enrollment Number
Select your Programme from Dropdown List
Click on the "Submit" button
You can see Your Hall Ticket with the Complete Details on Your Screen
Take a print-out for Examination as it is compulsory
If you have already submitted your IGNOU Exam Form for June TEE 2020 by online or offline and if it was accepted by IGNOU then you will get your Hall Ticket for the upcoming exam. If you have downloaded your IGNOU Hall Ticket for June 2020 session exam, then we advise you to please verify all details printed on the hall ticket. If all details are correct, you will need to attach a passport size photograph of yourself on the Hall Ticket, then you can continue with your exam preparation. But if your details are incorrect or mismatched then we advise you contact your IGNOU study centre or regional office to make necessary changes before the beginning of the examination.
Also some students are getting some issues while downloading his/her hall ticket like "Enrollment Number Not Found…", so you don't have to worry about it, that means its taking a long time to process your request or else there is server related issues so can check your Hall Ticket after some time or the next day.
Also Read This if you are aiming to become an IAS Officer after your graduation
We hope that this information on IGNOU Assignment has helped you. If you have any queries, then you can ask us and we will answer you. Use the comment section below for any queries and comments.